Club Pup After-School Programs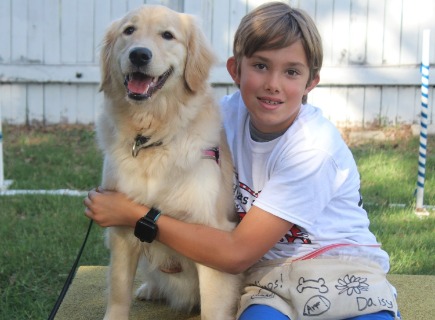 New at Hearts and Paws… our After-School program!
Since many after-school activities have been curtailed due to the social distancing requirements, we are offering an opportunity to train, bond and have fun with your dog.
We are so grateful that none of our staff, counselors or campers contracted Covid - 19 during our Club Pup camps this summer. For our after-school program, we will be using the same safety protocols we implemented for our camps. Students are required to wear masks, take temperatures on arrival, maintain a minimum of 6 ft. distance, and sanitized surfaces daily.
Healthy snacks and juice will be provided
All sessions will be for 4 weeks
We are limiting capacity to 10 students per session
Current vaccine records must be on file for all dogs
All students must have a signed medical release
Fall First Session
Level 1 Beginner -Tuesday 4:00 - 5:30 pm Sept 1 - 22
Level 2 – Advanced - Wednesday 4:00 - 5:30 pm Sept 2 - 23
Fall Second Session
Level 2 - Advanced -Tuesday 4:00 - 5:30 pm Sept 29 - Oct 20
Level 3 - Fun & Games -Wednesday 4:00 - 5:30 pm Sept 30 - Oct 21
Level 1 - Beginner Session
Students will learn training skills such as: Attention to Name, Sit, Stand, Down, Come, Wait at Doors, Walking on Leash, Shake and Bang. Students who have not trained a dog before will need to start with the Beginner session. If you have not attended a prior class or camp, we will need to meet with you and your dog to assess your dog's temperament.
Level 2 - Advanced Session
This session will cover more training skills such as Wait at Doors, Heeling with an Automatic Sit, Down Stay Exercises for Canine Good Citizen Test and have fun with a simple agility course. It will also include Novice level AKC tricks. Testing for CGC or Novice Tricks will be given to those who believe they are ready. Those who have been to Companion camp, Gameskills camp, or Basic Companion class will be able to participate in our Advanced session.
Level 3 – Fun and Games
(need to have prerequisite of Advanced Session) This class will include agility course, AKC Advanced Title Tricks, and off-leash challenges in a games format.
After the completion of the Advanced class in the First Fall Session on Wednesdays, Students will be able to participate in the Fun and Games class held at the same time on Wednesdays.
Cost $120 per 4 week session ($230 for 8 prepaid)
Please use promo code AFTERSCHOOLDISC for the $10 off second class. If it is more convenient to have your dog already at the facility, you may do daycare for a reduced rate of $20 instead of $28.
To register email clubpupcamps@heartsandpaws.com or click on the links at the top of this page.